Float Any Content On Your Site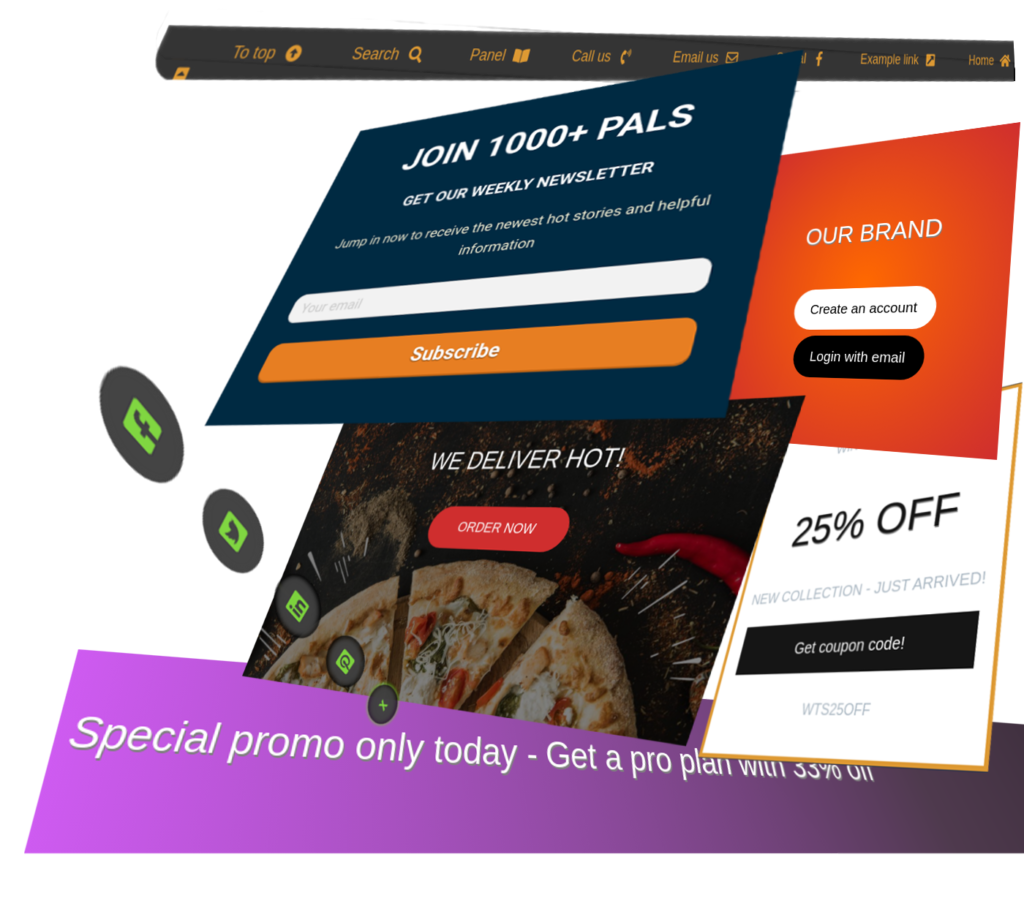 Floating and inline menus
Pop-up and slide-in panels
One page navigation
Call to action buttons and messages
Announcement and info bars
On-load or on-click initiation
and much more…
If you're a WordPress user looking for conversion site elements, you're going to love this. With Float Any create floating, sticky and inline menus, action buttons or pop-up/slide-in panels. All those from a simple to use and intuitive boxing interface.
Promote your products
Convert visitors to buyers
Increase social followers
More email subscribers
You'll be glad to know that Float Any is designed to work with any WordPress theme and heck, the interface for the floating elements is built into the WordPress' Customizer, so you can see the changes immediately with live preview.
Easily create floating menus
As it turns out, to create the first floating box, from Float Any's options in the Customizer interface, just click on the "Add a new menu".
Then the simple interface navigates you to complete the purpose of the content box, it's location and through the tabs set all the global menu options.
It's up to you to arrange the elements with drag & drop utility and to puzzle them into the floating menus or action buttons with popup messages.
Therefore, Float Any enables you to easily extend the functionality of your site in absolutely remarkable way. Multiple designs and functionalities will allow more interactions for your site's visitors. I'm sure you realize, would you use one button/element or as many as you wish, is up to you.
You might want to try it immediately, but before that, here are some basic examples of what you can make with Float Any.
---
Create floating menus
More exposure for the menu and important links
---
Call to action buttons
Promote specific products and deals
---
Social links
Connect with your other Web presence
---
Popup panels
Get important messages glued up over the page
---
Backup and import settings
To make things easier we have created the import/export feature. This enables you to quickly move Float Any's content from one site to another or to start easily with the following example. Download the following example and import it in Float Any's settings in the Customizer. Once imported, you can navigate to the "Menus" section of the plugin where you'll see the first menu. There are some links, panel and back to the top button. These are just examples, so that you can immediately see how things work. You should modify those elements and build upon from there. Lets get started:
Just copy and paste the text string into the "Backup" field.
---
Further, with premium version, you can import all the demo templates.
Demo
You can see fully working Float Any plugin and the most of its options demonstrated here.
Download or Buy: Free Vs Premium
| | Free | Premium |
| --- | --- | --- |
| Location | Left, right | Left, Right, Top, Bottom |
| Align (Top, Center, Bottom, Wide) | All | All |
| Styling settings | All | All |
| Colors | Yes | Yes |
| Add classes | No | Yes |
| Particular pages condition | No | Yes (restrict for a single page, multiple pages, post type(s), archive types, etc.) |
| User logged status | No | Yes – Logged in or Logged out condition |
| User roles condition | No | Yes (restrict for Administrator, Author, Editor, Support Agent, etc.) |
| Appear | On load | On load, On click or after certain event (time, scrolling, page's element in view, beneath the element in view) |
| Date and time campaign | No | Yes (limit the presence to a certain time span) |
| Exclude on each page | No | Yes (While editing a page, you can exclude a Float Any's menu for that particular page) |
| Output with shortcode & Gutenberg interface (inline or floating) | No | Yes |
| Elements: | | |
| Use labels | Yes | Yes |
| Use icons | Yes | Yes |
| Use images | No | Yes |
| Add classes | No | Yes |
| Link | Yes | Yes |
| Email | Yes | Yes |
| Telephone | Yes | Yes |
| Panels | Partial | Full (embed any content with advanced editor – Gutenberg, all popup locations and styling options) |
| Independent Panels | No | Yes (create panels outside of the Float Any menus') |
| Trigger panels on click | No | Yes (pop-up/slide-in panels on click from the content's button, link or image) |
| Simple info bar | Partial | Full (advanced editor options) |
| Search | Partial | Full (all display options) |
| Section | Partial | Full (link to any element on the page) |
| Igniter | No | Yes (trigger other elements hidden behind the "Igniter") |
| | Download | Soon |
Note: Premium option is an addon for the basic (free) plugin. So, in anyway you have to install the basic version and we encourage you to do so before buying the premium addon.
Familiar interface
You will be using the already familiar WordPress interface.
---
Easily create content
With new Gutenberg editor you're able to embed any content in pop-up and slide-in panels.
---
Lightweight
Since popup content is created with Gutenberg, mostly it will utilize resources your site is already using.
---
Start quickly
With import settings and templates you're promptly on the road.
---