Float Any Content On Your Site
A Powerful Engagement and Conversion Tool for Your Website in the Form of a WordPress Plugin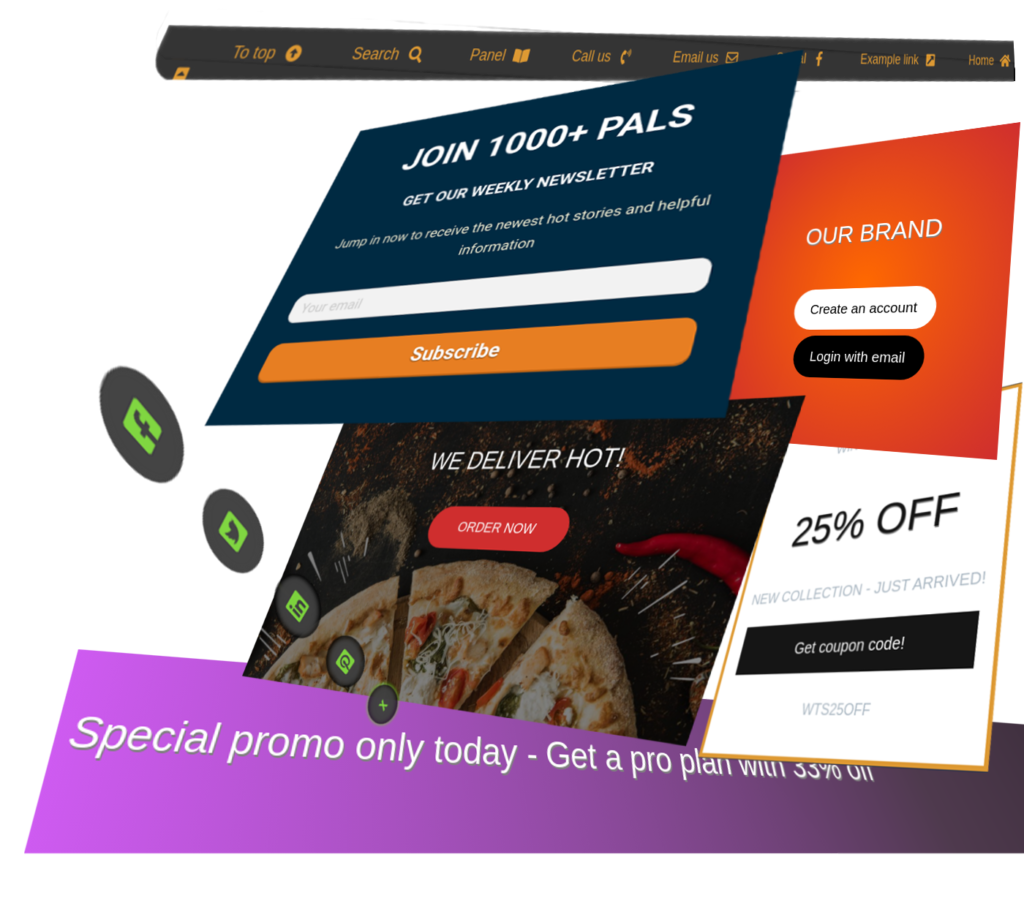 Floating and inline menus
Pop-up and slide-in panels
Call to action buttons and messages
Announcement and info bars
Rotating notifications
On-load or on-click initiation
and much more…
Are you capturing visitors of your Website?
On the very commence, lets emphasize some major points by checking the following
Are your Website visitors leaving without engagement and not following in the direction you would like?
Have you involved with conversion tools not intuitive and expandable enough?
And aren't those tools usually hard to grasp and to learn working with?
Well, we have the tool which will help you to tackle down these inconveniences. FloatAny is the WordPress plugin which allows you to create floating and sticky elements over your Website giving more exposure to the important messages and enticing components you wish them to involve with.
If you were looking for such a solution the chances are you're going to love this. With FloatAny create floating menus, info bars, pop-up/slide-in panels, toggling & igniting panels, even set the rotating notifications. On top of that, all is available from a common WordPress interface.
Convert visitors to buyers
You'll be glad to know that FloatAny is designed to work with any WordPress theme and the thing probably you're going to like is that the interface is the same the WordPress itself is using for publishing posts and pages.
Easily create floating panels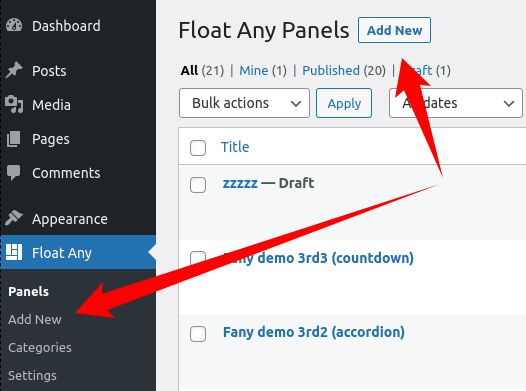 1. After activating the plugin, to create the first floating panel, from the WordPress dashboard notice the FloatAny section. Just click on the "Add new" link and you'll be redirected to the panel creation screen.
2. This is the optional step since you can go with default settings. To change the purpose of the panel there are settings you can change, e.g. panel's type, location, colors, toggler adjustment, etc.
3. It's up to you to arrange the elements with drag & drop utility and to puzzle them into the floating menus, action buttons, info bars or popup newsletter signup forms.
Therefore, FloatAny enables you to extend the functionality of your site in a remarkably easy way. Multiple designs and functionalities will allow more interactions for your site's visitors. I'm sure you realize, would you use one panel or as many as you wish, it's up to you.
It's for the new WordPress era
Lets be clear from inception, if you want to keep things in the old WordPress way by creating the content with classic editor or with "Page Builders", then this may not be for you. This is for the new era of WordPress where the content is created with blocks.
This switch to the block concept with WordPress editing is called Gutenberg project and since its introduction it has evolved tremendously. Nowadays, if the content element isn't available as the WordPress' core block, the chances are you'll find it through the plugin. FloatAny embraces this concept and allows you to wrap up created content, built either with native WordPress blocks or with 3rd party plugins, and unfold it as the floating panel. On top of that, you can set the purpose of the panel, show it as a toggler, igniter, simple closer or even set the messages rotate as the notification system.
To be completely clear, you can still use "Page Builders" on your site, but for the FloatAny content it is necessary to use WordPress blocks.
Why FloatAny – major advantages
Probably I shouldn't be telling you this, but it's OK if you skip this product. Maybe you've found a cheaper tool or something similar. On the other side, I would like to point that we are making all efforts to create FloatAny as a powerful conversion tool. We provide even the basic version at no cost, limited in some features and this is the great way to see is the plugin going to make a difference for you. To be clear, it's absolutely fine if the basic version is all you need. Besides that, lets emphasize what we see as the major advantages of FloatAny.
Simplicity
Unlike with many other WordPress plugins, creation of the FloatAny panels is done in a native WordPress way, i.e. the same way you create posts or pages. This means that you are using the interface you are used to, or if you are new to WordPress it's the interface you have to learn to use anyway. The whole FloatAny addition is the simple options panel added to the existing sidebar along the content editor – therefrom you determine the panel's type and it's appearance behaviour.
Performance
Discarding the concept of creating particular elements for the FloatAny panel reduced the size of the plugin. Plugin itself is lightweight and the elements you are using to build the content most likely are those your Website is already using, i.e. native WordPress blocks. On top of that, plugin's resources are loaded only on the pages where panel is present.
Design
Panels can be styled differently, e.g. squarely or with rounded corners, shown as wide info bars or narrowed box messages. Further, introduce panels differently (as popups, or slide-ins ), set different types (igniter, toggler, closer) and add roles (banish or rotating), etc. At last, it's limitless in content building possibilities, set content either with WordPress' core blocks or 3rd party plugins. To make things even easier, we provide you with pre-design patterns, which even further facilitate the content creation.
Therefore, forget about the tools that solve just one type of the issue or impact the loading of your Website, actually get ready to entice and engage the visitors in a smooth and seamless process. Maybe a bit biased statement, heck why not to say, FloatAny is the powerful and performance wise tool that allows you to create beautiful conversion components in a remarkably simple way.
Powerful features present
If you were wondering are there some significant features missing. Well, don't worry, all this come without sacrificing important features. Even with the basic version you'll be able to create dazzling panels, but have to admit the real benefit comes once you upgrade to the Premium version.
Time is always critical
Often people do not have time for additional work, that's why good products come pre-assembled or pre-designed. We know you are busy and that's why you can import some ready panels for testing. Over that we have made pre-designed patterns you can use as a foundation for the FloatAny content.
The 3 x right – Are your call to actions getting attention?
The right message
At the right time
At the right place
It's not about how many people you are getting on your site, it's more about are you converting those visitors to prospects.
By offering your Website's visitors engagement components they are getting involved and connected with your messages.
brands advertised a discount or bundle deal on a Black Friday
used a timer to create urgency
ARE YOUR CALL TO ACTIONS ON THE RIGHT SPOT?
DID YOU KNOW THAT COUPONS ARE ONE OF THE BEST BUYING INCENTIVES?
of shoppers prefer digital coupons
when offered a coupon people shop more items than normal
of American consumers share deals and offers with their friends and family
With FloatAny get your visitors moved in the desired direction by setting info bars, exit popups, coupon copiers and much more
When used effectively, a little bar on top of your site is the most unobtrusive way to boost your Website engagement.
While many companies are shy in using Exit Popups, they are actually a proven way to increase conversion – what have you got to lose, the user was leaving anyway!
When offered a coupon people are more likely to buy, usually sharing it with friends and colleges. When you upgrade to premium version, you get a smooth way for users to copy the coupons on your site.
This is just to name the few options. See the major features listed here.
---
Lets see visually, is this plugin powerful enough for your Website
You might want to try it immediately, but before that, here are some basic examples of what you can make with FloatAny.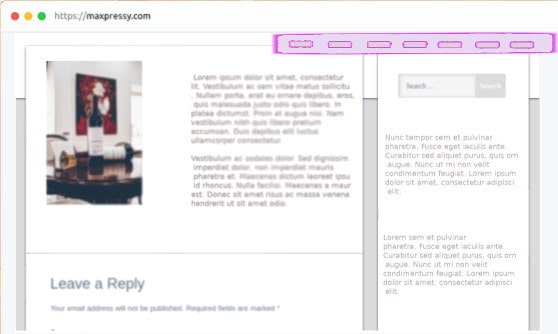 Create floating menus
More exposure for the menu and important links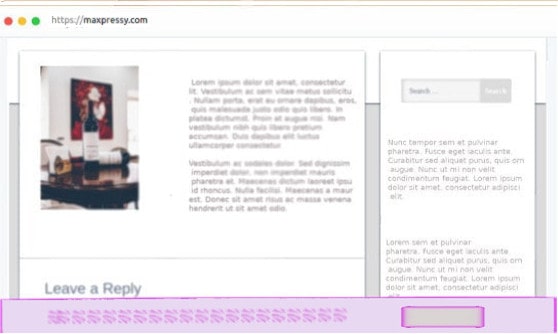 Call to action bars
Promote specific products and deals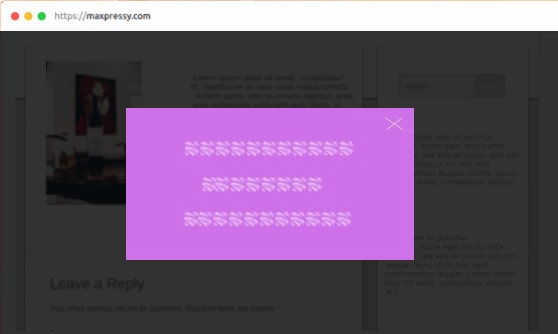 Popup panels
Get important messages glued up over the page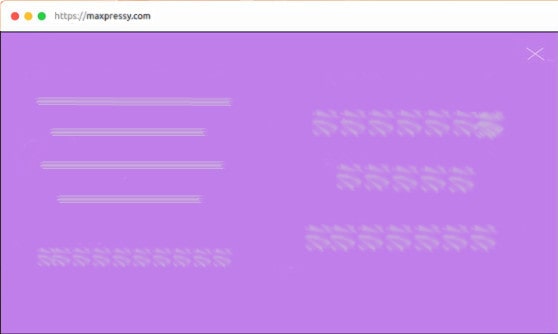 Set full screen panels
With the panel over the full screen there's no limit to the design you can output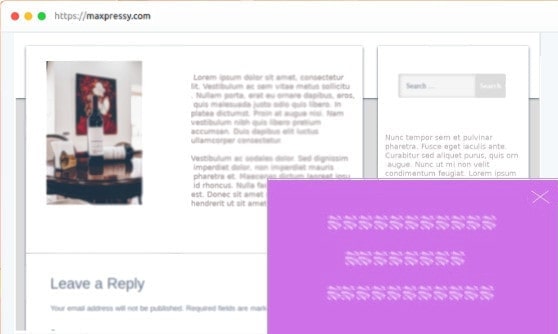 Slide in panels
Different appearance styling, define a panel as a popup or slide-in vertically / horizontally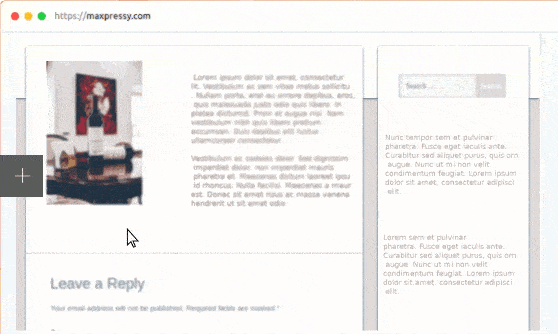 Make toggle and button igniting content
There are different appearance outputs and many more options to apply conditionally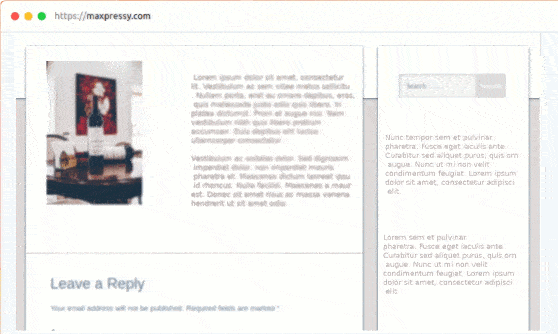 Rotate messages
Create notification system by rotating the content
See some using scenarios, now
Off course, we didn't cover every possible scenario in which you can use FloatAny panels, but hopefully you got the clue. You can certainly use it to make the simplest info messages or cookie/gdpr notices, on the other hand it's largely expandable allowing you to embed multi-step forms or quizzes for example.
As you can see, panel content can be simple or complex. Worth mentioning, while many are created with core WordPress blocks, to complete the building of some FloatAny boxes we have to use 3rd party plugins e.g. social sharing plugin. Now you realize, basically there's no limitation in what FloatAny panel can contain and what you can create.
Save time by starting from the pre-disigned patterns
Create all the above mentioned panels and more, but save time by starting from the pre-made patterns. This is how they may look in the admin. When you upgrade to Premium version, there's 80+ patterns currently available. Use them as a starting point, just add a bit of personal touch and connect colors to your personal branding or to the message you want to send.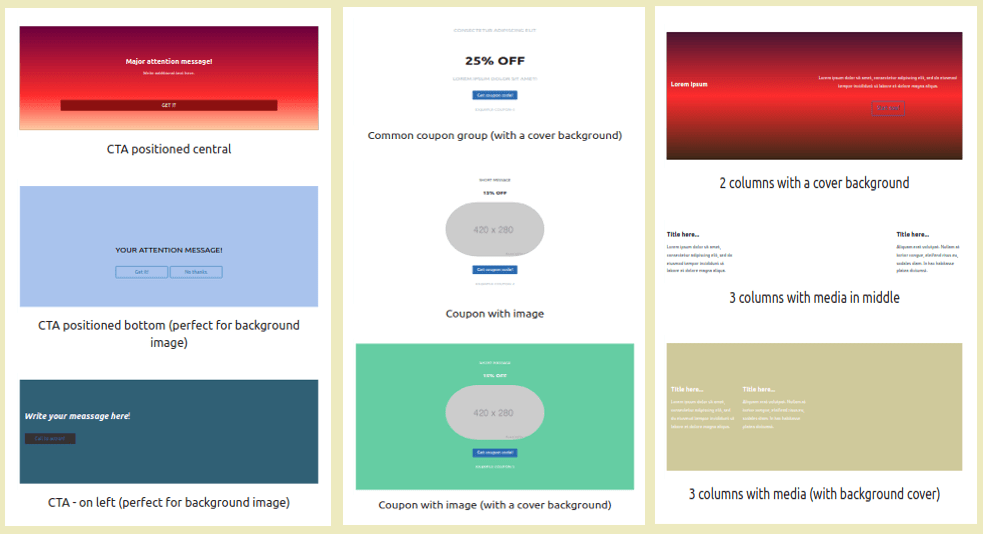 Always testing for the best security and performance
As seen on this test, FloatAny doesn't impact the page's speed. If the plugin is disturbing the page load, the test would be showing some number, but here the impact is so low that it isn't showing any calculation.
Be assured the plugin will always be tested for the best security and performance.
---
Demo
You can see fully working FloatAny plugin and the most of its options demonstrated here.
Documentation
We have docs page with all options of FloatAny explained.
Import examples
We have prepared some panel examples you can import in your WordPress site and work upon there –see how it works.
Open a support ticket
If you're still having a problem in finding the answer, just open the support ticket here.
Compare: Basic Vs Premium
Feature
Basic
Premium
Locations
Left topped, Left centered, Left bottomed, Center topped, Centered, Center bottomed, Right topped, Right centered, Right bottomed
All
All
Panel types
Toggler, Igniter, Closer
All
All
Panel roles
Hidden, Exit intent, Banish (do not show again), Rotator
All
All
Initiation
On load
On load, On click, On mouse hover
Showing style
Popup, fade-in, slide-in
All
All
Add classes
x
Yes
Colors
Unlimited
Unlimited
Sizes
Height, Width, Padding, Borders
Yes
Yes
Toggler/Closer button options
Positioning, styling
Yes
Yes
Particular pages condition
x
Yes
Restrict for a single page, multiple pages, post type(s), archive types, etc.
Element present condition
x
Yes
Show if element is present on the page
Event triggers
x
Yes
Appear after certain event – Time, scrolling, page's element in view, beneath the element in view
Based on pages view number
x
Yes
Until the (x) times or After the (x) times
User logged status
x
Yes
Logged in or Logged out condition
User roles condition
x
Yes
Restrict for Administrator, Author, Editor, Support Agent, etc.
Based on devices
x
Yes
Appear for mobile or desktop devices
Based on referrer
x
Yes
Show a panel based on referrer – Domain(s) or URL(s)
Geographical restriction
x
Yes
Restrict appearance for certain Countries and Cities
Scheduling
x
Yes
Limit the presence to a certain time span
Output
Site overall
Site overall, with shortcode or WordPress' block interface
In content closer/toggler
Set buttons from the content to act as a panel's toggler/closer
Yes
Yes
Hide for small or large screens
Enables you to hide elements inside the panel by adding the classes
Yes
Yes
Exclude on each page
x
Yes
While editing a page, you can exclude a FloatAny's panel for that particular page
Trigger from the content
x
Yes
Open a panel from the content with a click/hover on element
Position inline to the content element
x
Yes
When triggered from the content, position a panel inline, i.e. next to the element (e.g. button) that invokes the panel
Set as a dismissive note
x
Yes
You can disable floating aspect of the panel, which placed in content produces dismissive note
Copy coupons
Set coupon codes to be copied on the click
x
Yes
Goals and Analytics
Set the goals and track how many times a panel is viewed, button clicked or form submitted
Yes
Yes
Patterns
A collection of pre-designed templates that you can insert and edit to your needs
Yes
Limited
Yes
80+ design patterns currently available
Download
Familiar interface
You will be using the already familiar WordPress interface.
---
Easily create content
While we provide pre-designed patterns, further you can expand by embedding any WordPress block in FloatAny's panels as well.
---
Lightweight
Plugin itself is lightweight and content is created with native WordPress blocks, means it utilizes resources your site is already using.
---
Start quickly
With import examples and patterns you're promptly on the road.
---